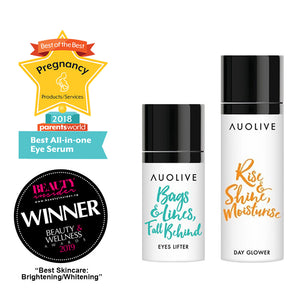 Day & Eye Bundle Set
Regular price RM740.00 MYR RM625.00 MYR Sale
★ ★ ★ ★ ★ 
"I previously stopped using any eye cream in my skincare routine. I tried many brands, wasted a lot of money and always ended up with tiny bumps or milia seeds under my eyes! After awhile, I just resigned that eye creams were not for me.
Now I faithfully slather on this eye serum every night and wake up to brighter and younger looking eyes!"
Day Glower - Antioxidant Brightening Moisturiser (Water-based)


The Day Glower is an Award-Winning Antioxidant moisturiser created to Brighten and Hydrate your skin while giving it a natural Glow to start your day.
✔ Brightens your skin
✔ Moisturises your Skin
✔ Protects Against Premature aging
✔ Repairs damage from Blue Light, UV Rays and pollutants
✔ Evens out skin tone
✔ SPF 30 with UVA/UVB Protection
✔ Acts as a Primer/Base for Makeup
✔ Absorbs immediately with no oily/sticky feel
Size: 30ml (lasts 60 to 90 days with daily usage)
Eyes Lifter - Revitalising Eye Serum (Water-based)
The Eyes Lifter is an Award-Winning Water-Based Serum created to revitalize your Eyes and add a little sparkle to them.
✔ Reduces Dark Eye Circles
✔ Reduces Puffiness around the Eyes

✔ Softens Fine Lines & wrinkles
✔ Anti-Aging - Reduces Signs of aging around the eyes

✔ Absorbs instantly into the skin - Does not cause Millia Seeds 

✔ Hydrates and lifts the area around the eyes
Size: 15ml (lasts 120 to 150 days with daily applications in the morning and at night)
Dermatologically and Clinically Tested
Non-allergenic Fragrance
Paraben, Alcohol and Colour Free